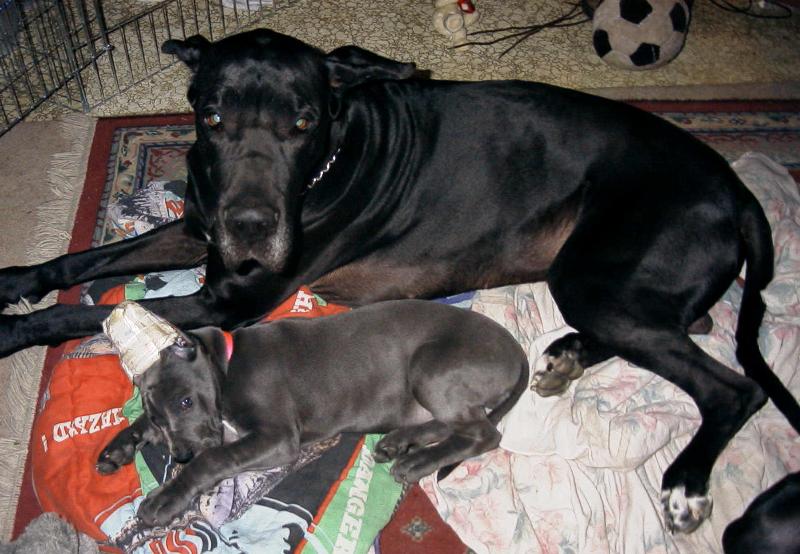 Iris loved "Uncle" Raven from the begining. They would often cuddle up together.

Iris is the one that was kept out of Geisha's litter and Melanie is a co-owner as she is with our other danes. We raised her from about 8 weeks to 6 months. Our house is just too small to have three full grown Danes so Geisha will stay with Melanie when Iris is with us. It has been a lot of fun and a blue attracts a lot of attention, that's for sure. Iris is just starting her show career and still needs more training and still more growing to reach her full potential. She should be ready to go all out in the Spring of 2002. She is certainly an energetic, happy Dane and loves to meet new people too.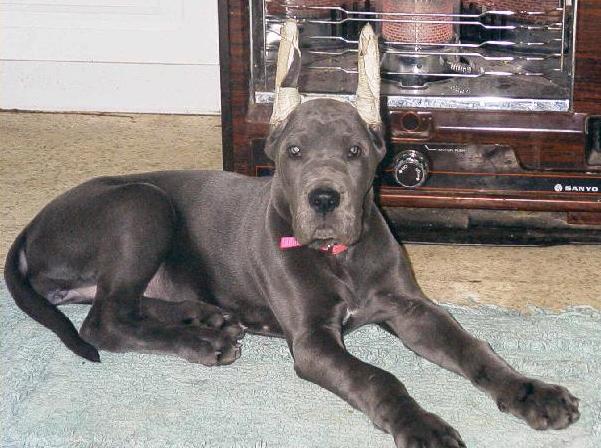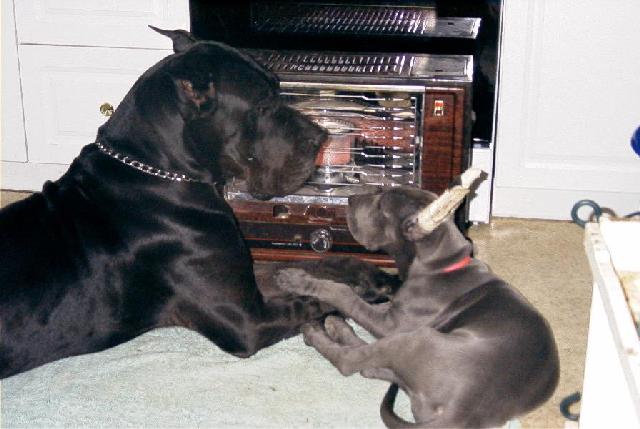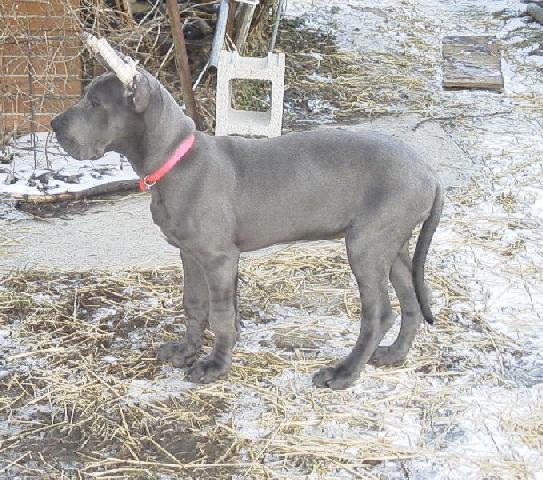 Iris is eagerly waiting for a piece of her birthday cake at her first birthday party.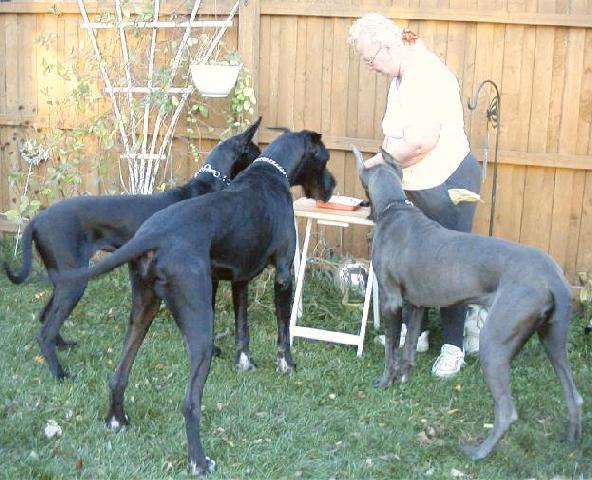 Geisha, Raven and Iris were all here for the celebration. We had all three for a couple of weeks when Melanie had to be out of town. It was fun, but crowded, with all of them in the house. They all got along very well and there were no arguments, even with Iris pestering Geisha all the time.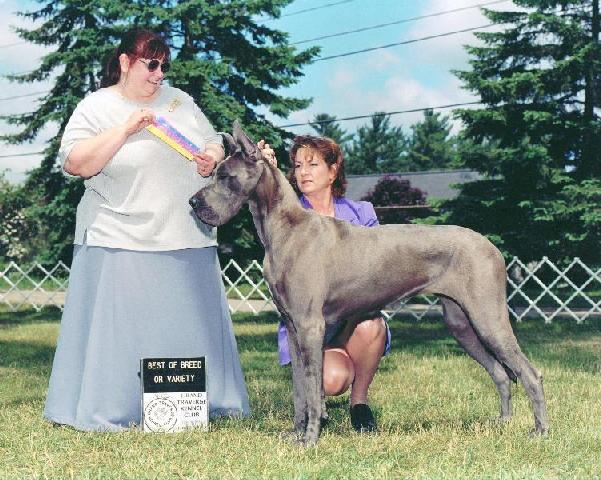 Iris received her first point for her AKC championship at the Grand Traverse Kennel Club show on June 16, 2002 by attaining the Best Of Breed. This was a very special win for Melanie as she has worked hard for ten years to produce these exceptional danes. Winning with blue danes is difficult and so this was extra special as Harley also won at the show by going Best of Opposite Sex. We will remember this show for a long time.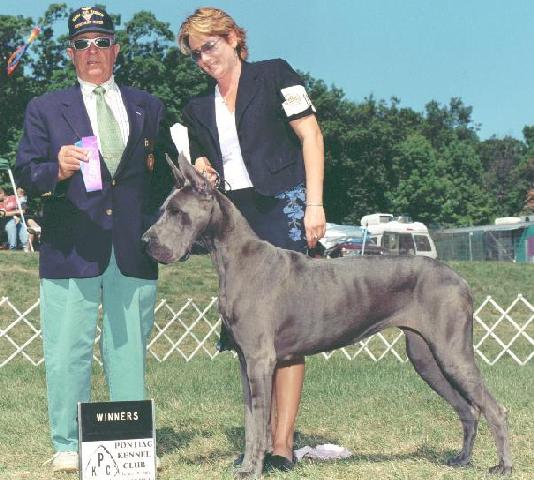 Iris was winners bitch for one point each day at the Pontiac Kennel Club shows on Aug 17th and 18th 2002. That gives her three points.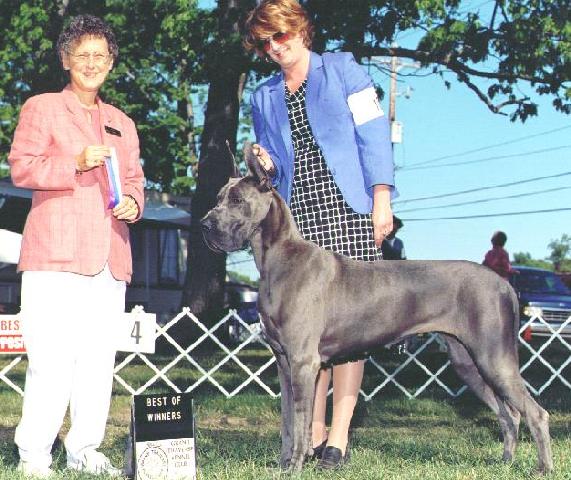 Iris was Winners Bitch on Saturday and Sunday at the Grand Traverse Kennel Club shows in Traverse City in June, 2003. She has nine points and needs those hard-to-get major show points to finish her championship.





















It has taken longer than expected but Iris is, as of March 2005, CH Kohinoor Poetry In Motion. Yes, Iris is now an AKC conformation champion. She finished by winning a four point major at the Three Rivers Kennel Club of Missouri show on March 5, 2005. A very spectacular end to her long road to the championship. Iris was handled in every show by Melanie Chaput, her co-owner and breeder.
Iris lived a long an happy life. She had to be put down at the age of nine and a half, which is pretty good for a large dog like a dane. The last six months of her life was made easier with the use of Metacam. This is a liquid that can be put on the food and is for arthritis. As with most of the giant breeds her rear just got weaker and weaker until it became difficult for her to walk.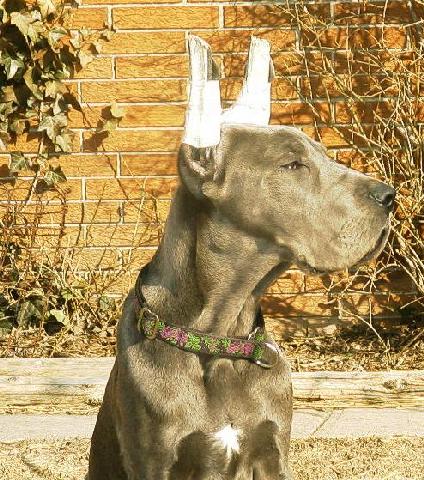 Iris had her ears taped for many months to insure that they would stand well. She has a very tall narrow show crop and as such are difficult to get to stand evenly. The effort was worth it as they have turned out beautiful.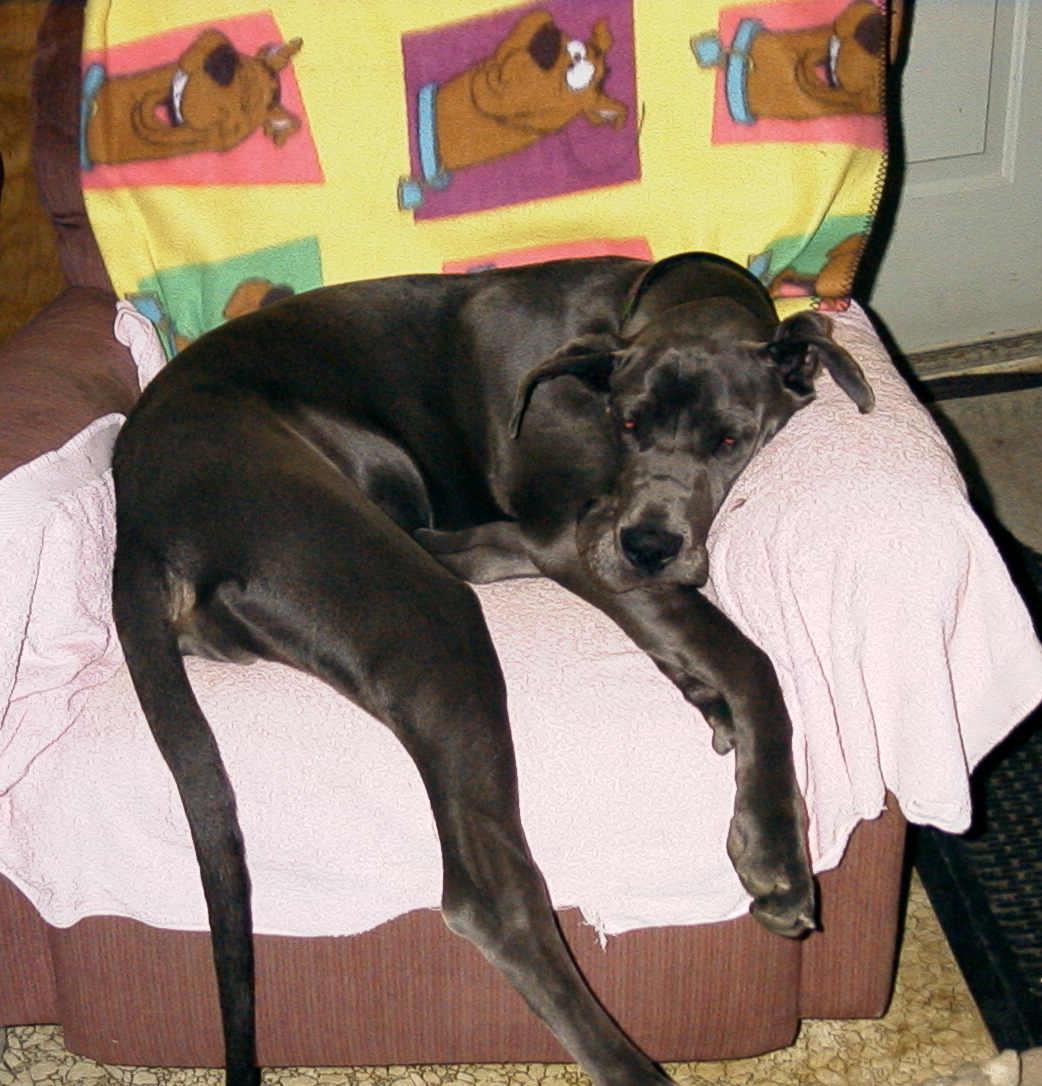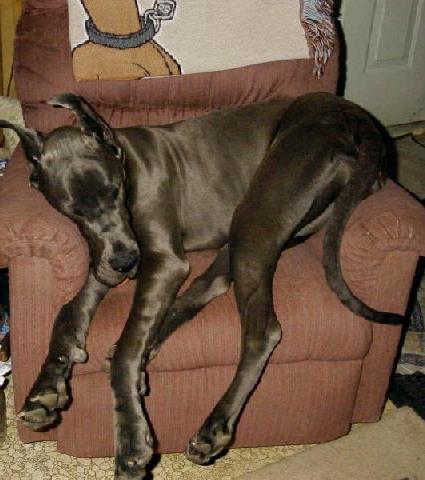 Iris took over my Lazy Boy chair when she was very small and can still be found in it even though she has gotten much too large for it. She knows that she shouldn't be in it and will get out if she sees me coming.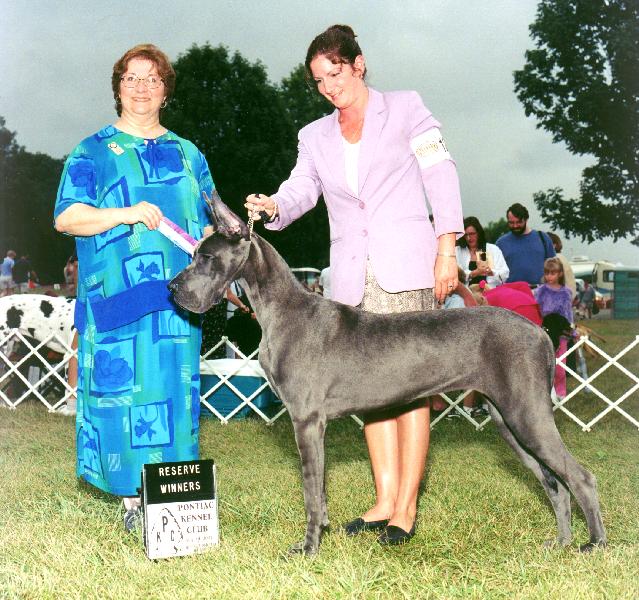 Iris has her first win as Reserve Winners Bitch. A humble beginning but she was much admired.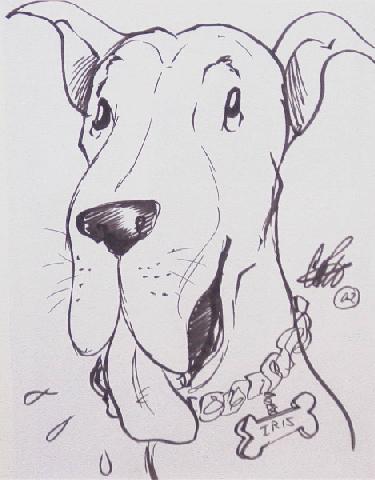 I had this caricature done at an Art Fair in Saginaw. I had taken Iris there to help her get used to crowds and thought it would be fun to have her sketched by an artist there. I think he did a wonderful job and he captured her fun loving, mischievous spirit.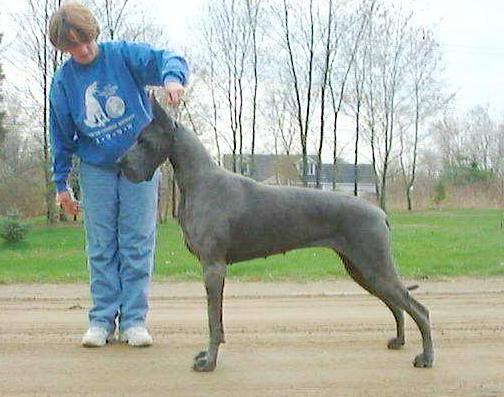 Iris has reached her full maturity and as she starts her 2003 show season she is ready to attain her AKC championship. Melanie has done a wonderful job training her to look her best in the show ring. For me she looks more like the caricature sketch but in Melanie's hands she is the beautiful, graceful Great Dane that is her heritage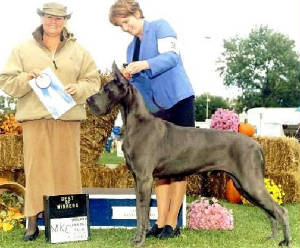 Iris received her first major with a Best Of Winners at the show in Monroe, Michigan on September 28, 2003. This was a fantastic day for blue danes as not only did we win but the Best Of Breed was a blue as was the Best of Opposite Sex and the the Reserve Winners Bitch was a blue too. The judge was not favored towards blues but it was that there were some very good blues there that day. Just a few years ago, when I first started going to shows, there were very few blue danes in the show ring. Now there are often blues other than mine. With the three points from this show Iris now has 12 points and the championship is getting close.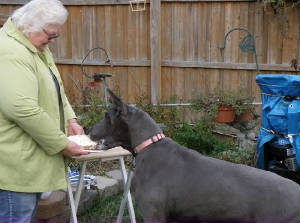 Iris got a piece of cake for her birthday as she always did. It was gone in a gulp, as always.