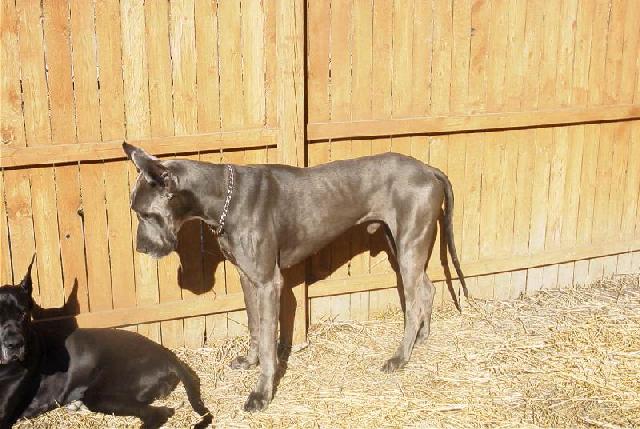 Harley and Geisha get aquainted. Harley loves to play and he loved Geisha from the begining but Geisha doesn't like to be pestered and it took a while for her to get used to him and explain to him just who is boss.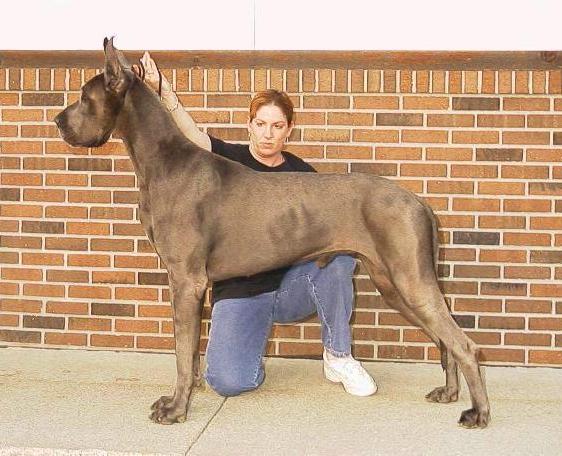 These two pictures were taken outside the Alpine Dog Academy, where we train for the show ring.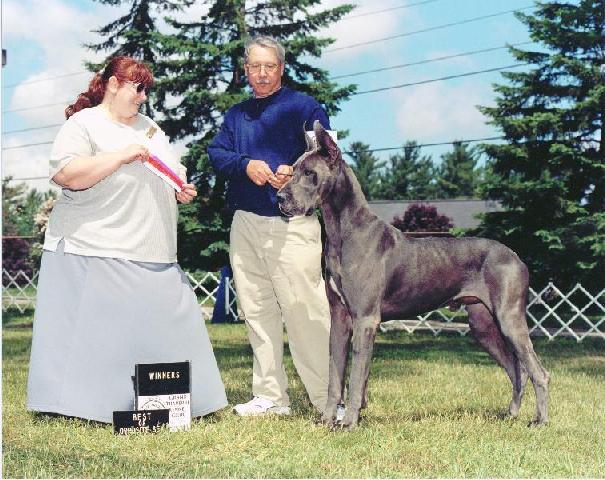 Harley has received his first point towards his AKC championship! Harley has learned very quickly the things needed in the show ring and it has paid off faster than I expected. At the Sunday show at Traverse City, Michigan, on June 16, 2002, Harley was Best of Opposite Sex for one point. This was the first time I had handled him in the ring as Melanie had done so in previous shows. I suggested to her that I thought he responded better to me in the ring and so I did take him in. As it turned out, it worked well as Melanie handled Iris for Winners Bitch and so it was Iris and Harley in the ring for Best Of Breed. It was a wonderful time, as it is seldom that two dogs from the same breeder do so well in the same show. That they were both blue danes is even more a special event. Blue danes are quite rare in the show ring and it is not often that they win.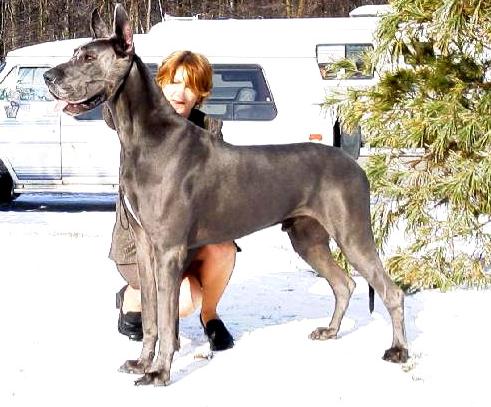 This picture was taken at the Saginaw Kennel Club show, the first weekend in April. It doesn't look much like April, even for Michigan. Compare this picture to the one taken last fall and you can see that we have been able to add some weight to Harley. He now weighs 170 pounds (77kg)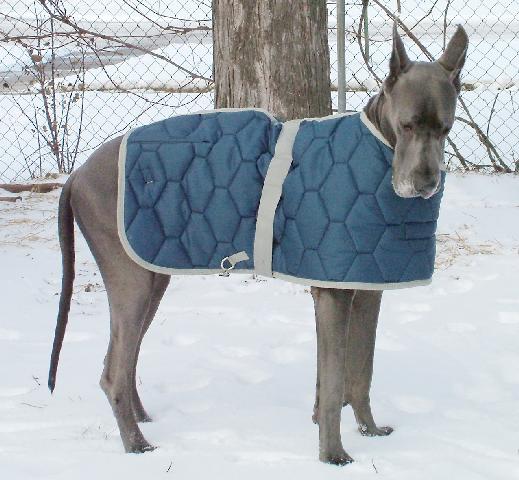 Here is Harley admiring his new winter coat. He got it for Christmas and it is not really a dog coat. It is impossible to find one big enough for him so this is a foal coat. Yes, it is made for a young horse and it works great for Harley. He only wears it when we go for a walk when it is very cold. Since this winter has been much colder than it has been in many years, he has had a lot of opportunities to wear it.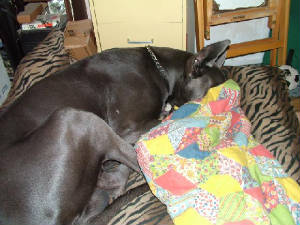 This might seem a strange picture, but Harley likes to keep his nose and feet warm so he has learned to grap a blanket with his mouth and pull it over his feet, and will snuggle his nose under the blanket as well. This is a nightly ritual and he goes to great trouble to make sure his bed is to his liking.